BEST Way To Remove A Wine Stain ….
[/mp_heading]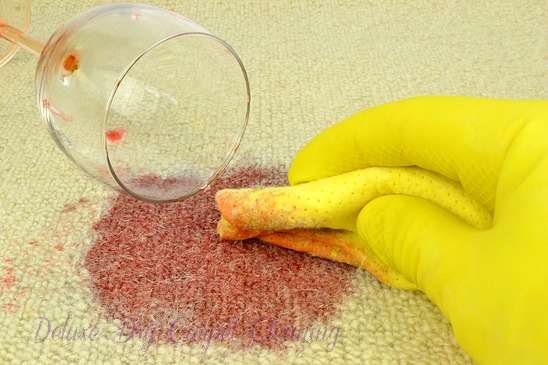 We love our red wine  but not on the carpet!   A spilt glass of Cabarnet can be a proper pain to clean up  because it contains tannins that bind tightly to the fibres of fabrics or carpet.
What is the most effective way to remove a red wine stain on your carpet?  
There are lots of  options like white wine, soda water, salt and lemon .. the list is a  long one. 
We tried 8 different stain removers to find the best and the results are below

So before you throw that party — be prepared ! Have the foolproof, works every time, no- fail, 100% tried and tested red wine stain remover handy and your carpet will always look fantastic!

KEEP READING…
What We Did :
We Tested  7  Different Stain Removers
on  Fresh Red Wine Stains and on Old Wine Stains….

Soda Water 
White Wine  
Wine No More
Wine Away
Oxi Stain Remover   
Hydrogen Peroxide Soln.
Vanish Foam

Each stain was made by pouring
5 mls of red wine on to the carpet.
We left the wine for 5 minutes to soak into the carpet and then blotted it with kitchen towel to soak up most of the liquid.
We used the same wine and spilled the same amount and blotted with the same quantity of paper towel.
We tried to give a fair comparison!
The 4 Best  Fresh Red Wine Stain Removers …
The 4 Worst FreshRed Wine Stain Removers…
How We Did It…
We created 8 red wine stains on beige  wool carpet and left them for 10 days.                                   We used the same red wine and spilled the same quantity on the carpet on the same day.
We applied the 8 different stain removers to the stains in turn and compared the
results